So Alex is only 3 weeks old but there are already a few must-haves in our house.
1. Sleep Sheep
(
Toys R Us
)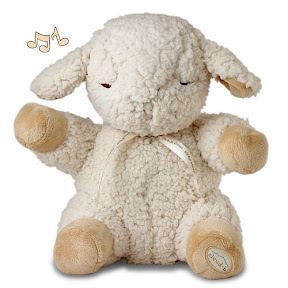 We love this! It might be more for us then for Alex. Ha ha, we turn this in to the heartbeat setting at night and it seems to help Alex. Sometimes if we go to bed after it has turned off we restart it to help us go to sleep!
2. Baby Log App
(
Apple Store
)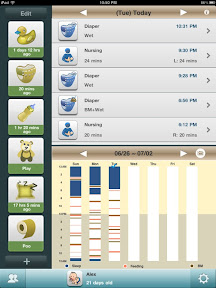 There are lots of baby apps out there and this is just the one that we found. It is great, especially in the first few weeks. It helped me keep track of which side he nursed on last, when he nursed, diapers, etc. It was great when we went to the Dr's office because we didn't have pieces of paper to remember. We just started using the sleep option and only at night for right now but going to start using the sleep part during the day too. It also has places to logs weight, etc. Only thing I wish is that it had accounts so you could sync across devices (iPad and iPhone, etc).
3. My Brest Friend Deluxe Wearable Nursing Pillow
(
Toys R Us
)
I tried the Boppy Pillow when we were in the hospital but I still had too much of a belly to make it work. My co-worker recommended this and the some people from work got it for me as a gift. It was a life-saver. It adjusts size to fit depending on how big you are, plus it stays in place and has great support for the baby to lay for feeding. Sometimes, if he falls asleep I let him sleep there for a bit if I'm entertained.
4. Changing Pad Covers
(
Toys R Us
)
We have the changing pad covers that match our bedding set but we use these on top of that and it's great! They're much cheaper so we have a lot of them and they're easy to change out when they get pooped on (which happens several times a week unfortunately)
What does anyone else have as their essentials? We'll see what tops our list again in a few weeks as Alex grows!