So technically baby c isn't here yet but I have been looking for some announcements to use so that I have a bit of an idea what I would like when he does finally arrive.
Callie Nicole blogged
about this great deal at Shutterfly and I couldn't agree more, what a great option considering we have about 60 announcements to send!
Here are some of my favorites so far:
1 Picture
Announcing Baby Boy
Safari Friends Cocoa
It's a Boy!
Baby Giraffe
2+ Pictures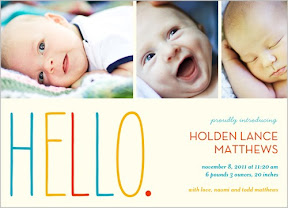 Hello Baby Boy
Zoo Who Blue
Boy Oh Boy
So hard to decide! Maybe we'll have to pick after we have a picture to use, they're all so cute!
Have you found any other place to get them for a better price? Which one do you like?