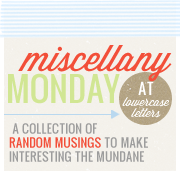 1. productivity
It was a relatively productive weekend at the Chapman household. We're slowly working on small projects and getting them done a few at a times feels like we're actually accomplishing something. The garage is cleaned out and the coat closet is cleaned out and room has been made!
2. book update
So I have finally finished 1 book I've been wanting to read and another that I haven't been able to get into. This weekend I forced myself to finish the second one, when the good one was done. Now I've decided that I'll probably change up my
2011 reading list
a little and read some hardcover/paperback books that I have on the shelves rather than buy a new one. At least for the next book, if not 2.
3. spring is here!
Saturday was a great day. We finally had some spring like weather and it felt great. We did lots of walking around though, so I was wiped out by about 8:00. Sunday was a bit colder. I'm not looking forward to going to NY this weekend and the cooler temperatures there. Apparently it might snow there tomorrow.
4. cash $$$$
So KC and I have decided to try something in terms of our budget. We are doing cash only for eating out. Once the money is gone for the week then no more! First week was successful, we didn't each out much at all. We need to get the budget figured out before we have to pay for daycare. Yeah, that's a whole other post. Now the trick is making sure we get to the ATM to get out the cash! Anyone else have a budgeting/money tracking system that they'd recommend. We do use Mint too.
Some randoms to start off the week! Maybe this week I'll have an actual post, I've got a few I've started! :-)
Hope you all had a fabulous weekend!