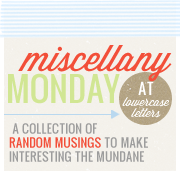 1. happy anniversary, happy birthday, happy baby!
My amazing husband gave me my anniversary/birthday/baby present last week! An iPad. I'm so excited! I've been wanting one for a while but we had decided we were going to wait until the next generation. Now does anyone have any good apps to recommend? What about an app to use for blogging since blogger only works in HTML mode so far? (Really desperate for this right about now)
2. last week of work!
I'm off today because M is leaving today, I will be working the rest of the week, though the outlook is that Thursday and Friday will be half days. Friday is my last day of work until about October depending on when baby Chapman decides to arrive.
3. cooking up a storm
M and I spent most of Sunday cooking to put in the freezer. We cooked about 8 or so different meals for easy cooking after the baby arrives!
4. making a list
I'm starting to feel a little overwhelmed with the things that I need to/want to get done before baby arrives, including a list of blogposts, things to do around the house, things to buy etc.
5. full term
Made it to 37 weeks this weekend. Technically full term, I wonder when baby Chapman will decide to make his appearance!
Hope you all had a fantastic weekend! :-) Have a great week. Happy Monday!